Yuri Amano

天野由梨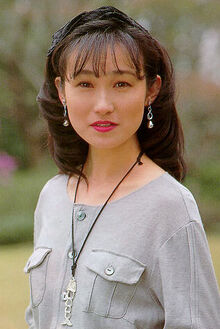 Yuri Amano (天野由梨, Amano Yuri?, born January 5, 1966 in Kyoto), is a Japanese voice actress who is affiliated with Arts Vision. Her real name, as well as her former stage name, is Tomoko Yoshikawa (吉川智子, Yoshikawa Tomoko?). Her best known role is Kiyone Makibi in the Tenchi Muyo! franchise. Other major roles include Asako Nakamura in Ushio and Tora, Keiko Yukimura in YuYu Hakusho, Alcyone in Magic Knight Rayearth, and Lorelei in the Saber Marionette J series. In video games, she voices Mary Argent in Tales of Destiny, Hokuto in Street Fighter EX, Ibuki in Street Fighter III, and Etoile Rosenqueen in the Marl Kingdom series.
External links
Edit
Ad blocker interference detected!
Wikia is a free-to-use site that makes money from advertising. We have a modified experience for viewers using ad blockers

Wikia is not accessible if you've made further modifications. Remove the custom ad blocker rule(s) and the page will load as expected.