Show Hayami
速水 奨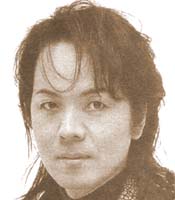 Birth Name
Yasushi Ōhama
大濱 靖
Birthdate
August 2 1958
Birthplace
Takasago, Hyōgo, Japan
Show Hayami (速水 奨, Hayami Shō?), born Yasushi Ōhama (大濱 靖, Ōhama Yasushi?, born on August 2, 1958) is a veteran seiyū and singer who was born in Takasago, Hyōgo. He is mainly known for his smooth, deep voice, and he has played a wide range of characters from sweet heroes (Maximilian Jenius) to seductive sociopaths (Sōsuke Aizen and Kazutaka Muraki). He is married to fellow seiyū Rei Igarashi.
External links
Edit
Ad blocker interference detected!
Wikia is a free-to-use site that makes money from advertising. We have a modified experience for viewers using ad blockers

Wikia is not accessible if you've made further modifications. Remove the custom ad blocker rule(s) and the page will load as expected.