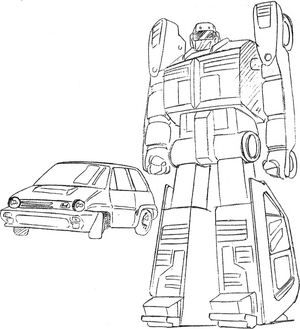 Name: City Turbo II Robo (シティターボⅡロボ)
Length: 3,420 mm
Weight: 745 kg
Speed: 175 kph
Transformation: Honda City Turbo II
City Turbo II Robo only appeared once in an animated toy commercial and never again. Ironically there was never any toy of this character to sell. It is unknown why this bizarre choice was made to feature a non-toy character prominently in a toy commercial; perhaps a toy may have been planned at one point.
Ad blocker interference detected!
Wikia is a free-to-use site that makes money from advertising. We have a modified experience for viewers using ad blockers

Wikia is not accessible if you've made further modifications. Remove the custom ad blocker rule(s) and the page will load as expected.